<07.27.2012> - TRANSFORMERS RESCUE BOTS: ROLL TO THE RESCUE OWN IT ON DVD THIS OCTOBER 2, 2012 FROM SHOUT! FACTORY KIDS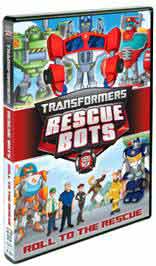 When you're in need, they're the first to be on the scene... Kids, get ready to roll out with the TRANSFORMERS RESCUE BOTS!
From the creators of TRANSFORMERS PRIME comes an all-new animated series TRANSFORMERS RESCUE BOTS, created specifically for the younger generation of TRANSFORMERS fans by Hasbro Studios. Emphasizing the importance of teamwork and heroism, this hit show brings action, adventure, heart and humor, and follows a group of AUTOBOTS assigned by OPTIMUS PRIME to serve and protect mankind. On October 2, 2012, kids and families will be entertained by the adventures of the RESCUE BOTS - HEATWAVE, BOULDER, BLADES and CHASE when TRANSFORMERS RESCUE BOTS: ROLL TO THE RESCUE DVD hits store shelves everywhere from Shout! Factory Kids, in collaboration with Hasbro Studios. Featuring five fun-filled episodes, special DVD bonus content and coloring sheets, this DVD is priced to own with a suggested retail price of $14.93. This DVD is now available for pre-order at Amazon.com.
Pre-order link:
Order from Amazon.com HERE!
Executive produced by Jeff Kline (TRANSFORMERS PRIME), TRANSFORMERS RESCUE BOTS features the vocal talents of LeVar Burton (Star Trek: The Next Generation), Lacey Chabert (Party of Five), Steve Blum (TRANSFORMERS PRIME), Maurice LaMarche (Emmy Award winner for Futurama) and the legendary Peter Cullen who voices OPTIMUS PRIME when he makes cameo appearances in the series. The TRANSFORMERS RESCUE BOTS series is currently airing on The HUB TV Network in the U.S. and on Treehouse in Canada.
Griffin Rock seems like just another chunk of land floating off the coast of Maine. But if you look a little closer, you just might find more than meets the eye! Meet the RESCUE BOTS - CHASE, HEATWAVE, BLADES and BOULDER! Stationed undercover, they're given the task of protecting and learning about mankind by teaming up with a family of first responders, including a police chief, firefighter, helicopter pilot and engineer. With help from Cody, the family's youngest, the RESCUE BOTS help keep people safe, and along the way they learn what it really means to be a hero!
Episodes Include:
Under Pressure
Hotshots
Flobsters On Parade
The Alien Invasion Of Griffin Rock
Four Bots and A Baby
DVD Bonus Content
The premiere episode Family of Heroes
Printable Coloring Sheets
TRANSFORMERS RESCUE BOTS: ROLL TO THE RESCUE DVD
Street Date: October 2, 2012
Aspect Ratio: Anamorphic widescreen (1.78:1)
English
Total Running Time: Approx. 110 minutes
Closed Captioned
About HASBRO
Hasbro, Inc. (NASDAQ: HAS) is a branded play company providing children and families around the world with a wide-range of immersive entertainment offerings based on the Company's world class brand portfolio. From toys and games, to television programming, motion pictures, video games and a comprehensive licensing program, Hasbro strives to delight its customers through the strategic leveraging of well-known and beloved brands such as TRANSFORMERS, LITTLEST PET SHOP, NERF, PLAYSKOOL, MY LITTLE PONY, G.I. JOE, MAGIC: THE GATHERING and MONOPOLY. The Hub, Hasbro's multi-platform joint venture with Discovery Communications (NASDAQ: DISCA, DISCB, DISCK) launched on October 10, 2010. The online home of The Hub is
www.hubworld.com
. The Hub logo and name are trademarks of Hub Television Networks, LLC. All rights reserved. Come see how we inspire play through our brands at
http://www.hasbro.com
. Copyright 2012 Hasbro, Inc. All Rights Reserved.
About Shout! Factory
Shout! Factory is a diversified entertainment company devoted to producing, uncovering and revitalizing the very best of pop culture. Founders Richard Foos, Bob Emmer and Garson Foos have spent their careers sharing their music, television and film faves with discerning consumers the world over. Shout! Factory's DVD offerings serve up classic, contemporary and cult TV series, riveting sports programs, live music, animation and documentaries in lavish packages crammed with extras. The company's audio catalogue boasts GRAMMY-nominated boxed sets, new releases from storied artists, lovingly assembled album reissues and indispensable "best of" compilations. These riches are the result of a creative acquisitions mandate that has established the company as a hotbed of cultural preservation and commercial reinvention. With its fingers on the pulse of pop culture, Shout! Factory continues to impact the entertainment media landscape through acquisition of top quality programming for home entertainment releases. Shout! Factory is based in Santa Monica, California. For more on Shout! Factory, visit
ShoutFactory.com