<06.20.2012> - TRANSFORMERS PRIME - ONE SHALL STAND - OWN IT ON DVD JULY 31, 2012 FROM SHOUT! FACTORY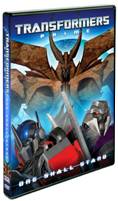 This summer, get ready for a special presentation of TRANSFORMERS PRIME for home entertainment. On July 31, 2012, Shout! Factory, in collaboration with Hasbro Studios, will debut TRANSFORMERS PRIME - ONE SHALL STAND DVD, featuring the compelling story behind the most iconic AUTOBOT ever, OPTIMUS PRIME, and an epic tale of deception, sacrifice, loyalty and triumph. Produced by Hasbro Studios, ONE SHALL STAND highlights the story that spanned the first two seasons of the acclaimed CGI animated series TRANSFORMERS PRIME, which currently airs on The Hub television network in the U.S and Teletoons in Canada. This action-packed story arc is edited together in a seamless, riveting special presentation for this home entertainment release. Packed with exciting bonus content, TRANSFORMERS PRIME - ONE SHALL STAND DVD delivers spectacular CGI animation and captivating family entertainment for all ages. This highly collectible DVD is priced to own with a suggested retail price of $14.97.
Fans can pre-order now on
Amazon.com
TRANSFORMERS PRIME boasts an all-star voice cast, including Peter Cullen, Frank Welker, Steve Blum, Jeffrey Combs, Ernie Hudson, Adam Baldwin, Gina Torres, John Noble, among other notables. TRANSFORMERS PRIME is produced by Hasbro Studios, with Alex Kurtzman, Roberto Orci and Jeff Kline serving as executive producers. Kurtzman and Orci served as writers for the feature films TRANSFORMERS and TRANSFORMERS: Revenge of the Fallen.
TRANSFORMERS PRIME - ONE SHALL STAND
With UNICRON's awakening, extreme measures needed to be taken. An unlikely alliance formed between AUTOBOTS and DECEPTICONS to defeat UNICRON, a foe who could spell the end of the Earth. The action unfolds as the AUTOBOTS battle alongside MEGATRON against the evil UNICRON. Enemies became allies, allies became confidantes, and with the Matrix of Leadership, the planet Earth was saved.
Though at immeasurable personal cost, when OPTIMUS surrendered the Matrix, he lost more than the collective wisdom of the PRIME. He lost himself. With the power of the Matrix no longer within him, it would stand to reason that OPTIMUS has reverted to his pre-PRIME state as the historical archivist ORION PAX. MEGATRON manipulates the impaired OPTIMUS into joining the DECEPTICONS. But does the OPTIMUS and AUTOBOTSí true key to salvation lie in the trusted hands of a teenaged boy named Jack?
DVD Bonus Content:
- A Look Back At One Shall Stand with Jeff Kline, Duane Capizzi and Steven Melching
- Animatics
Technical Information
TRANSFORMERS PRIME - ONE SHALL STAND DVD
Street Date: July 31, 2012
Running Time: +/ - 2 hours
Aspect Ratio: Anamorphic widescreen
Audio: English, Audio 5.1 Surround
About HASBRO
Hasbro, Inc. (NASDAQ: HAS) is a branded play company providing children and families around the world with a wide-range of immersive entertainment offerings based on the Company's world class brand portfolio. From toys and games, to television programming, motion pictures, video games and a comprehensive licensing program, Hasbro strives to delight its customers through the strategic leveraging of well-known and beloved brands such as TRANSFORMERS, LITTLEST PET SHOP, NERF, PLAYSKOOL, MY LITTLE PONY, G.I. JOE, MAGIC: THE GATHERING and MONOPOLY. The Hub, Hasbro's multi-platform joint venture with Discovery Communications (NASDAQ: DISCA, DISCB, DISCK) launched on October 10, 2010. The online home of The Hub is
www.hubworld.com
. The Hub logo and name are trademarks of Hub Television Networks, LLC. All rights reserved. Come see how we inspire play through our brands at
http://www.hasbro.com
. Copyright 2012 Hasbro, Inc. All Rights Reserved.
About Shout! Factory
Shout! Factory is a diversified entertainment company devoted to producing, uncovering and revitalizing the very best of pop culture. Founders Richard Foos, Bob Emmer and Garson Foos have spent their careers sharing their music, television and film faves with discerning consumers the world over. Shout! Factory's DVD offerings serve up classic, contemporary and cult TV series, riveting sports programs, live music, animation and documentaries in lavish packages crammed with extras. The company's audio catalogue boasts GRAMMY-nominated boxed sets, new releases from storied artists, lovingly assembled album reissues and indispensable "best of" compilations. These riches are the result of a creative acquisitions mandate that has established the company as a hotbed of cultural preservation and commercial reinvention. With its fingers on the pulse of pop culture, Shout! Factory continues to impact the entertainment media landscape through acquisition of top quality programming for home entertainment releases. Shout! Factory is based in Santa Monica, California. For more on Shout! Factory, visit
ShoutFactory.com