<06.08.2012> - NCIS star Pauley Perrette makes Lois Lane even feistier in SUPERMAN VS. THE ELITE, an All-new DC Comics Premiere Movie available June 12
Strong willed, intelligent, feisty, relentless, outspoken. You'd be speaking of Lois Lane or Pauley Perrette?
Actually, both - which made the NCIS star the perfect match as the voice of the resourceful reporter for SUPERMAN VS. THE ELITE, the latest DC Comics Premiere Movie coming June 12 courtesy of Warner Home Video.
Perrette's raspy vocal tones and spunky, never-back-down approach gives a new-yet-familiar perspective to the animated Lois Lane, particularly playing opposite the strong, traditional performance of Justice League veteran George Newbern in reprising his role as Superman.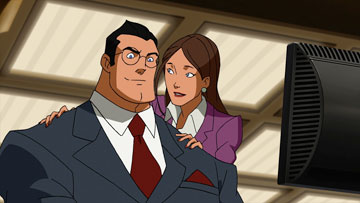 Over nine seasons and more than 200 episodes, Perrette has mesmerized audiences with her portrayal of Gothy forensic specialist Abby Sciuto on NCIS, regularly the top rated drama series on primetime television. The role has elevated Paulette's popularity into are air - in August 2011, she registered the top Q-score in all of primetime television. Not only was she the only female to rank among the Top 10 TV actors, her score matched that of feature film luminaries like Tom Hanks.
In addition to NCIS, Perrette has appeared in feature films like The Ring and Almost Famous, and had recurring roles on The Drew Carey Show, Jesse, Dawson's Creek, 24 and Murder One. For the 2009 indie short To Comfort You, Perrette earned the award for Best Female Performance at the Beverly Hills Film Festival in the Short Film Drama category.
And while Perrette doesn't boast a large amount of experience in animation, this isn't her first time in the Bruce Timm pool - having given voice to a police officer in an episode of Batman Beyond.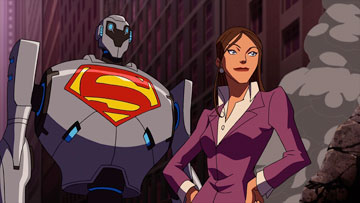 In SUPERMAN VS. THE ELITE, Superman's effectiveness as a super hero comes into question when a new group of super powerful crusaders, known as "The Elite," appear on the scene. As super heroes, the Elite know no bounds, and are more than willing to kill, even on a massive scale, to stop villainy -- putting them on a collision course with the ever-ethical and decidedly non-lethal Man of Steel.
Produced by Warner Premiere, DC Entertainment and Warner Bros. Animation, the all-new, PG-13 rated film arrives June 12, 2012 from Warner Home Video as a Blu-ray Combo Pack and DVD, On Demand and for Download. Both the Blu-ray Combo Pack and DVD will include an UltraViolet Digital Copy.
The ever-gracious Perrette spent some time after her initial recording session to chat about her love of Superman and Abraham Lincoln, her hatred of bad guys, her own super heroic efforts on behalf of numerous human rights charities, and the benefits of a criminal science collegiate background in acting today. Please read on and, wherever available, watch the video clips of Ms. P's interview.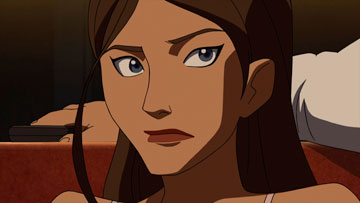 QUESTION: Was there any special personal significance for you to act in a Superman movie?
PAULEY PERRETTE: When I was little, I think that I wanted Superman to be my boyfriend. So this is the next best thing. I get to pretend to be Superman's girlfriend. Although the older I've become, I've sort of decided that I would rather be Superman myself. So I'm trying (she snickers).
But even my first memory of a super hero was of Superman, because I had a crush on him. Well, it was on Clark Kent, Superman and Christopher Reeve, all rolled into one.
QUESTION: Did you have any preconceived ideas of how you wanted to play Lois Lane?
PAULEY PERRETTE: When you're doing voice work, and I said it right when I came in the door, I said, "I'm very obedient, and I will take direction." Because the people who have written this, and the ones who have been envisioning the animation in their head, they have such a specific concept on what they want, that it's good for me to say, "Give it to me. Give me every piece of direction you want. I'll do it 10 different ways. Whatever you want." It's their vision, and I want to achieve that. If I get an idea while I'm doing a voice, I will offer it... "Hey, can we try this?" But it's still up to them.
QUESTION: Your emphasis in college was rooted in studying subjects like sociology, psychology and criminal science. How do you think that's benefitted you as an actress and, in particular, has it lent new perspective on Lois Lane?
PAULEY PERRETTE: I do think my background in sociology, psychology and criminal science has helped me as an actor because I spent years and a years and years studying human behavior as a science, and as an actor -- in approaching a role like Lois Lane or any character - it's always fascinating to me to try to figure them out psychologically and sociologically. In many ways, acting is really like a science to me to figure out the human behavior of any character that I'm playing.
QUESTION: Now we know how you come to understand your characters. Do you have any acting tricks to then convert that information into a portrayal?
PAULEY PERRETTE: I always tell myself that when you're playing a character, pretend like they're on trial and you're giving the best witness of their life. You really need to think about every element of the character and represent them properly, as if they were a real person. You want to give 100 percent of what they're worth and what they deserve as people.
QUESTION: Do you see Lois Lane as an important role model for girls, and who inspired you as a kid?
PAULEY PERRETTE: Lois Lane is an inspirational character because she's a smart and powerful woman. Even when she's with Superman, she has no problem putting him in his place, and giving her opinion. It's quite an honor to give voice to Lois Lane and be part of that legacy. My personal inspirations were a lot of the smart women throughout history, like Marie Curie and Eleanor Roosevelt and Amelia Earhart. Those are the ones that really inspired me. And the love of my life, Abraham Lincoln.
QUESTION: It seems as though you spend almost as much time volunteering for charities as you do on set. With as much charity work as you do, aren't you a bit of a super hero yourself?
PAULEY PERRETTE: My life outside of work is pretty much about charities. I have a big passion about civil rights for everyone – whoever is being downtrodden at the moment, it doesn't matter: racial discrimination or sexual orientation or gender. Whatever it is, I'm there. I think I was a born civil rights activist. I can't stand the smashing of a community. It's not fair and it's not right. We're supposed to be here for liberty and justice for all, right?
QUESTION: Is there a geek within Pauley Perrette?
PAULEY PERRETTE: My geekiness is in science and math. So if I had an ultimate geek role to play, I'd be a super scientist who was also a crime fighter. But on NCIS, I'm actually playing a crime-fighting super scientist right now, so maybe all my geeky dreams have come true!
About Warner Premiere:
Warner Premiere, part of Warner Bros. Entertainment, specializes in the development and production of both features and digital content for home entertainment platforms. Past projects include Another Cinderella Story, Scooby-Doo! The Mystery Begins and Batman: Under the Red Hood, as well as the digital series Watchmen Motion Comics. Warner Premiere is at the creative forefront in the made-for-home entertainment marketplace, producing properties that exemplify the commitment to story, production and brand equity for which Warner Bros. is known.
About Warner Bros. Home Entertainment Group:
Warner Bros. Home Entertainment Group brings together Warner Bros. Entertainment's home video, digital distribution, interactive entertainment/videogames, direct-to-DVD production, technical operations and anti-piracy businesses in order to maximize current and next-generation distribution scenarios. WBHEG is responsible for the global distribution of content through DVD, electronic sell-through and VOD, and delivery of theatrical content to wireless and online channels, and is also a significant worldwide publisher for both internal and third party videogame titles.
About DC Entertainment:
DC Entertainment, home to iconic brands DC Comics (Superman, Batman, Green Lantern, Wonder Woman, The Flash, etc.), Vertigo (Sandman, Fables, etc.) and MAD, is the creative division charged with strategically integrating across Warner Bros. and Time Warner. DC Entertainment works in concert with many key Warner Bros. divisions to unleash its stories and characters across all media, including but not limited to film, television, consumer products, home entertainment, and interactive games. Publishing thousands of comic books, graphic novels and magazines each year, DC Entertainment is the largest English-language publisher of comics in the world.
JUSTICE LEAGUE and all related characters and elements are trademarks of and copyright DC Comics. (s12)
About Warner Bros. Animation:
Warner Bros. Animation (WBA) is one of the leading producers of animation in the entertainment industry, with an innovative and talent-rich roster boasting some of the most accomplished writers, producers and artists working today. The studio is on the cutting edge of animation technology, and has both CG and traditionally animated projects in current production and development. In 2010, WBA unveiled three new CG cartoon shorts that feature iconic Looney Tunes characters Wile E. Coyote and Road Runner, rendered in stereoscopic 3D. The films have been released theatrically, attached to Warner Bros. Pictures releases. For television, WBA currently produces Batman: The Brave and the Bold, The Looney Tunes Show, Scooby-Doo! Mystery Incorporated, MAD and Young Justice for Cartoon Network, and will soon launch ThunderCats, Green Lantern: The Animated Series and more. WBA also creates the highly successful series of DC Universe Original Animated Movies for DVD. Producing for multiple platforms including TV, digital and home entertainment both domestically and internationally, WBA is highly respected for its creative and technical excellence, as well as for maintaining the Studio's rich cartoon heritage. It is also the home of the iconic animated characters from the DC Comics, Hanna-Barbera, MGM and Looney Tunes libraries. One of the most-honored animation studios in history, WBA has been honored with six Academy Awards, 35 Emmy Awards, the George Foster Peabody Award, an Environmental Media Award, a Parents' Choice Award, the HUMANITAS Prize, two Prism Awards and 20 Annie Awards (honoring excellence in animation).