<06.08.2012> - JEM and The Holograms: Season Three DVD Set HITS STORE SHELVES EVERYWHERE JULY 10, 2012 FROM SHOUT! FACTORY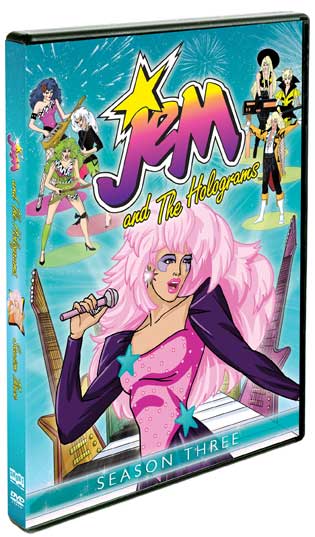 On July 10, 2012, the beloved classic animated series JEM and the Holograms returns for its third and final season when Shout! Factory, in collaboration with Hasbro Studios, present JEM and the Holograms: Season Three in a collectible 2-DVD set.
With Jem and the Holograms at the height of their success, there's a new band in town - The Stingers! - and they're not about to let Jem and her music group take all the limelight. The group's leader, Riot, is charmed by Jem and vows to win her over. Jem finds herself with conflicted feelings for Riot and for her longtime beau, Rio.
Featuring all 13 original episodes from the complete third season along with special bonus feature Video Jukebox, JEM and The Holograms: Season Three DVD set will be available in stores nationwide and is priced to own with a suggested retail price of $19.93. Who will win Jem's affections? Will The Stingers buzz their way to the top of the music charts, or will The Misfits' mischief and mayhem thwart their rise to superstardom? Find out now with this collection of the final episodes of the iconic JEM and The Holograms!
The series JEM and the Holograms ran from 1985-88 in first-run syndication and still boasts a loyal and vocal fan base. It is frequently credited with influencing fashion in the late 1980s and beyond, and launching the careers of female pop-rock stars and music groups. The series follows Jerrica Benton, whose discovery of Synergy, a powerful computer companion, allows her to change from owner of Starlight Music into rock star Jem. Teaming with her sister and best friends who form The Holograms, Jem sets out to make their musical dreams come true, even as she battles against the ruthless Eric Raymond and his musical proteges.
About HASBRO
Hasbro, Inc. (NASDAQ: HAS) is a branded play company providing children and families around the world with a wide-range of immersive entertainment offerings based on the Company's world class brand portfolio. From toys and games, to television programming, motion pictures, digital gaming and a comprehensive licensing program, Hasbro strives to delight its global customers with well-known and beloved brands such as TRANSFORMERS, LITTLEST PET SHOP, NERF, PLAYSKOOL, MY LITTLE PONY, G.I. JOE, MAGIC: THE GATHERING and MONOPOLY. The Company's Hasbro Studios develops and produces television programming for markets around the world. The Hub TV Network is part of a multi-platform joint venture between Hasbro and Discovery Communications (NASDAQ: DISCA, DISCB, DISCK), in the U.S. Through the company's deep commitment to corporate social responsibility, including philanthropy, Hasbro is helping to build a safe and sustainable world for future generations and to positively impact the lives of millions of children and families every year. It has been recognized for its efforts by being named one of the "World's Most Ethical Companies." Learn more at
http://www.hasbro.com
. Copyright 2012 Hasbro, Inc. All Rights Reserved.
About Shout! Factory
Shout! Factory is a diversified entertainment company devoted to producing, uncovering and revitalizing the very best of pop culture. Founders Richard Foos, Bob Emmer and Garson Foos have spent their careers sharing their music, television and film faves with discerning consumers the world over. Shout! Factory's DVD offerings serve up classic, contemporary and cult TV series, riveting sports programs, live music, animation and documentaries in lavish packages crammed with extras. The company's audio catalogue boasts GRAMMY-nominated boxed sets, new releases from storied artists, lovingly assembled album reissues and indispensable "best of" compilations. These riches are the result of a creative acquisitions mandate that has established the company as a hotbed of cultural preservation and commercial reinvention. With its fingers on the pulse of pop culture, Shout! Factory continues to impact the entertainment media landscape through acquisition of top quality programming for home entertainment releases. Shout! Factory is based in Santa Monica, California. For more on Shout! Factory, visit
ShoutFactory.com