<05.29.2012> - George Newbern reprises role of Man of Steel for SUPERMAN VS. THE ELITE - Justice League & Justice League Unlimited star returns to title role in all-new DC Comics Premiere Movie available June 12
George Newbern makes his triumphant return as the voice of the Man of Steel in SUPERMAN VS. THE ELITE, the latest DC Comics Premiere Movie coming June 12 from Warner Home Video.
Newbern put all the resounding tones of truth, justice and the American way into the commanding vocals behind the animation of Superman in both the Justice League and Justice League Unlimited television series. He last reprised the character's voice for the DC Showcase original animated short, Superman/Shazam! The Return of Black Adam.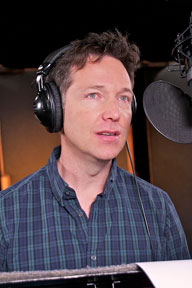 Newbern is a constant on primetime television, appearing on current hit series like NCIS, The Mentalist, Castle and Grey's Anatomy, to name a but a few. He's widely recognized for his starring turn opposite Steve Martin in Father of the Bride, and for the NBC series Providence. His latest projects include a recurring role on the new ABC hit series Scandal.
In SUPERMAN VS. THE ELITE, Superman's effectiveness as a super hero comes into question when a new group of super powerful crusaders, known as "The Elite," appear on the scene. As super heroes, the Elite know no bounds, and are more than willing to kill, even on a massive scale, to stop villainy -- putting them on a collision course with the ever-ethical and decidedly non-lethal Man of Steel.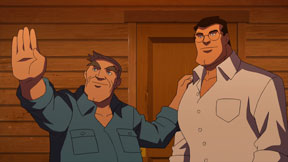 Newbern is joined in the core cast by NCIS star Pauley Perrette as Lois Lane and versatile voice actor Robin Atkin Downes (Babylon 5) as Manchester Black, leader of The Elite. David Kaufman (Justice League: Doom) also reprises his Justice League TV series role as Jimmy Olsen.
Produced by Warner Premiere, DC Entertainment and Warner Bros. Animation, the all-new, PG-13 rated film arrives June 12, 2012 from Warner Home Video as a Blu-ray Combo Pack and DVD, On Demand and for Download. Both the Blu-ray Combo Pack and DVD will include an UltraViolet Digital Copy.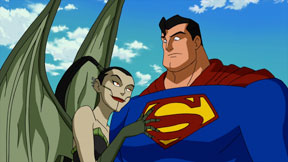 Newbern offered a few thoughts about playing Superman in a short chat following his final recording session for the film. Here's what Mr. Newbern had to say...
QUESTION: Where do you start as an actor when trying to create a voice for Superman?
GEORGE NEWBERN: I think you watch an actor like Jimmy Stewart in Mr. Smith Goes to Washington or It's a Wonderful Life, and you try to find the humanity of an everyman like that. When I think of an All-American hero, I think of an actor in a role like that. And that's what Superman really is - an American hero. Super powers are just ancillary. It's that character, with all those principles and understanding, that's who he is right there.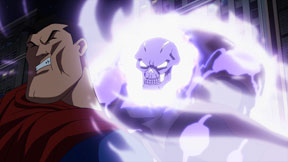 QUESTION: Are there any specific characteristics you believe are essential to the voice?
GEORGE NEWBERN: I think I tried to portray a sense of trust and power and charisma for Superman. I think that's what we believe Superman is.
QUESTION: You had a guest role on Private Practice opposite Tim Daly, the actor you replaced as Superman for the Justice League animated series. Did the commonality come up for discussion while you were on set?
GEORGE NEWBERN: We laughed about it. I said something like "Thanks for being busy," and he asked if I was having fun with it. We didn't really compare notes ... there was no secret handshake or anything. But there was an acknowledgment that we're in an exclusive club.
QUESTION: Aside from Superman, do you have a favorite DC Comics character?
GEORGE NEWBERN: I like Flash a lot. He cracks me up. And always has something to say. Plus Michael (Rosenbaum) is hysterical. But all of those actors on Justice League were terrific - a really great group of people. We had fun with the core cast in the old days. Susan (Eisenberg) and Michael and Carl (Lumbly) and the gang. Then we had these rotating guest casts as the seasons went on, and it was insane to see who would come through the door of the booth. It was guys like John Rhys-Davies, Ed Asner, Powers Boothe, Mark Hamill. There were so many great actors. It was funny because I'd go to work on a TV series and I'd look at one of the series regulars and immediately realize, "Oh, he did a role on Justice League!" So it was fun. It was a lot like doing a little reader's play every week.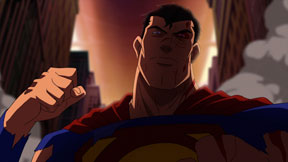 QUESTION: What value do you see for comic books in society today?
GEORGE NEWBERN: I see value in comic books, especially in terms of graphic art. It's sort of old school and I think it gives people something tangible. Kids are reading things like e-books, and people are starting to forget that reading can be held in your hand and seen and appreciated. So there's a tactile benefit to it. And the old style is a great way to tell a story. Things don't have to be 3D or complicated. That's where a comic book comes in - it's a simple, 2D way to tell a story with great art and words. There's a lot of value in that.
QUESTION: What are your children's impressions of you voicing Superman?
GEORGE NEWBERN: Since I've been doing it so long, my two younger children, when they are asked, are quick to say, "My dad is Superman." That's the first thing they knew, the first thing they told the other kids at school. Forget about the other 93 things I've done. To them, the coolest thing I've ever done is to play Superman.
About Warner Premiere:
Warner Premiere, part of Warner Bros. Entertainment, specializes in the development and production of both features and digital content for home entertainment platforms. Past projects include Another Cinderella Story, Scooby-Doo! The Mystery Begins and Batman: Under the Red Hood, as well as the digital series Watchmen Motion Comics. Warner Premiere is at the creative forefront in the made-for-home entertainment marketplace, producing properties that exemplify the commitment to story, production and brand equity for which Warner Bros. is known.
About Warner Bros. Home Entertainment Group:
Warner Bros. Home Entertainment Group brings together Warner Bros. Entertainment's home video, digital distribution, interactive entertainment/videogames, direct-to-DVD production, technical operations and anti-piracy businesses in order to maximize current and next-generation distribution scenarios. WBHEG is responsible for the global distribution of content through DVD, electronic sell-through and VOD, and delivery of theatrical content to wireless and online channels, and is also a significant worldwide publisher for both internal and third party videogame titles.
About DC Entertainment:
DC Entertainment, home to iconic brands DC Comics (Superman, Batman, Green Lantern, Wonder Woman, The Flash, etc.), Vertigo (Sandman, Fables, etc.) and MAD, is the creative division charged with strategically integrating across Warner Bros. and Time Warner. DC Entertainment works in concert with many key Warner Bros. divisions to unleash its stories and characters across all media, including but not limited to film, television, consumer products, home entertainment, and interactive games. Publishing thousands of comic books, graphic novels and magazines each year, DC Entertainment is the largest English-language publisher of comics in the world.
JUSTICE LEAGUE and all related characters and elements are trademarks of and copyright DC Comics. (s12)
About Warner Bros. Animation:
Warner Bros. Animation (WBA) is one of the leading producers of animation in the entertainment industry, with an innovative and talent-rich roster boasting some of the most accomplished writers, producers and artists working today. The studio is on the cutting edge of animation technology, and has both CG and traditionally animated projects in current production and development. In 2010, WBA unveiled three new CG cartoon shorts that feature iconic Looney Tunes characters Wile E. Coyote and Road Runner, rendered in stereoscopic 3D. The films have been released theatrically, attached to Warner Bros. Pictures releases. For television, WBA currently produces Batman: The Brave and the Bold, The Looney Tunes Show, Scooby-Doo! Mystery Incorporated, MAD and Young Justice for Cartoon Network, and will soon launch ThunderCats, Green Lantern: The Animated Series and more. WBA also creates the highly successful series of DC Universe Original Animated Movies for DVD. Producing for multiple platforms including TV, digital and home entertainment both domestically and internationally, WBA is highly respected for its creative and technical excellence, as well as for maintaining the Studio's rich cartoon heritage. It is also the home of the iconic animated characters from the DC Comics, Hanna-Barbera, MGM and Looney Tunes libraries. One of the most-honored animation studios in history, WBA has been honored with six Academy Awards, 35 Emmy Awards, the George Foster Peabody Award, an Environmental Media Award, a Parents' Choice Award, the HUMANITAS Prize, two Prism Awards and 20 Annie Awards (honoring excellence in animation).