<05.11.2012> - SUPERMAN VS. THE ELITE, a DC Comics Premiere Movie coming June 12, 2012 from Warner Home Video.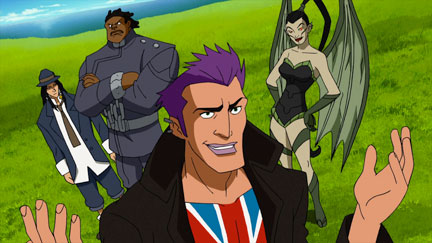 Superman vs. The Elite, a DC Comics Premiere Movie, is produced by Warner Premiere, DC Entertainment, Warner Bros. Animation and Warner Home Video. The all-new, PG-13 rated film is scripted by award-winning comics writer Joe Kelly and the story is adapted from his original 2001 DC Comics release, "What's So Funny About Truth, Justice and the American Way?" The single-issue comic, Action Comics #775, was lauded by Wizard Magazine as the "Greatest Superman Story of All Time," and ranked the epic tale at No. 21 on its list of the "Top 100 Comics of the last 30 years.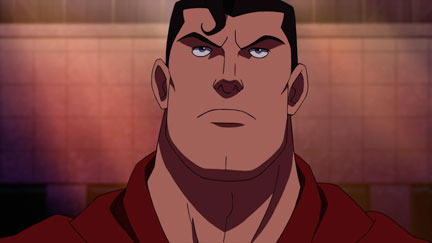 In Superman vs. The Elite, Superman's effectiveness as a super hero comes into question when a new group of super powerful crusaders, known as "The Elite," appear on the scene. As super heroes, the Elite know no bounds, and are more than willing to kill, even on a massive scale, to stop villainy -- putting them on a collision course with the ever-ethical, yet preferably non-lethal Man of Steel.
George Newbern (Father of the Bride) reprises his Justice League animated television role as Superman, and primetime television star Pauley Perrette (NCIS) provides the voice of Lois Lane. Downes steps in as Manchester Black, leader of The Elite. David Kaufman (Justice League: Doom) also reprises his Justice League TV series role as Jimmy Olsen.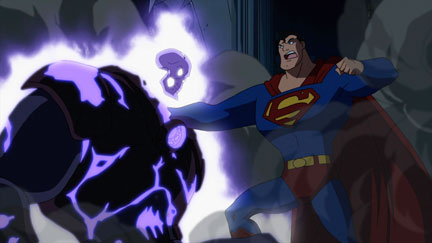 The film is directed by Michael Chang (Batman: Brave and the Bold). Bruce Timm (Batman: Year One) is executive producer, and Alan Burnett (Green Lantern: Emerald Knights) is producer.
About Warner Premiere:
Warner Premiere, part of Warner Bros. Entertainment, specializes in the development and production of both features and digital content for home entertainment platforms. Past projects include Another Cinderella Story, Scooby-Doo! The Mystery Begins and Batman: Under the Red Hood, as well as the digital series Watchmen Motion Comics. Warner Premiere is at the creative forefront in the made-for-home entertainment marketplace, producing properties that exemplify the commitment to story, production and brand equity for which Warner Bros. is known.
About Warner Bros. Home Entertainment Group:
Warner Bros. Home Entertainment Group brings together Warner Bros. Entertainment's home video, digital distribution, interactive entertainment/videogames, direct-to-DVD production, technical operations and anti-piracy businesses in order to maximize current and next-generation distribution scenarios. WBHEG is responsible for the global distribution of content through DVD, electronic sell-through and VOD, and delivery of theatrical content to wireless and online channels, and is also a significant worldwide publisher for both internal and third party videogame titles.
About DC Entertainment:
DC Entertainment, home to iconic brands DC Comics (Superman, Batman, Green Lantern, Wonder Woman, The Flash, etc.), Vertigo (Sandman, Fables, etc.) and MAD, is the creative division charged with strategically integrating across Warner Bros. and Time Warner. DC Entertainment works in concert with many key Warner Bros. divisions to unleash its stories and characters across all media, including but not limited to film, television, consumer products, home entertainment, and interactive games. Publishing thousands of comic books, graphic novels and magazines each year, DC Entertainment is the largest English-language publisher of comics in the world.
JUSTICE LEAGUE and all related characters and elements are trademarks of and copyright DC Comics. (s12)
About Warner Bros. Animation:
Warner Bros. Animation (WBA) is one of the leading producers of animation in the entertainment industry, with an innovative and talent-rich roster boasting some of the most accomplished writers, producers and artists working today. The studio is on the cutting edge of animation technology, and has both CG and traditionally animated projects in current production and development. In 2010, WBA unveiled three new CG cartoon shorts that feature iconic Looney Tunes characters Wile E. Coyote and Road Runner, rendered in stereoscopic 3D. The films have been released theatrically, attached to Warner Bros. Pictures releases. For television, WBA currently produces Batman: The Brave and the Bold, The Looney Tunes Show, Scooby-Doo! Mystery Incorporated, MAD and Young Justice for Cartoon Network, and will soon launch ThunderCats, Green Lantern: The Animated Series and more. WBA also creates the highly successful series of DC Universe Original Animated Movies for DVD. Producing for multiple platforms including TV, digital and home entertainment both domestically and internationally, WBA is highly respected for its creative and technical excellence, as well as for maintaining the Studio's rich cartoon heritage. It is also the home of the iconic animated characters from the DC Comics, Hanna-Barbera, MGM and Looney Tunes libraries. One of the most-honored animation studios in history, WBA has been honored with six Academy Awards, 35 Emmy Awards, the George Foster Peabody Award, an Environmental Media Award, a Parents' Choice Award, the HUMANITAS Prize, two Prism Awards and 20 Annie Awards (honoring excellence in animation).